Superplastic Forming
In Superplastic Forming, a sheet of metal is clamped between a die cavity and a plate which are kept at the convenient temperature. Gas pressure is applied to deform the sheet by forcing it against the walls of the die cavity, under suitable stress and deformation rate.
Superplastic Forming Press (SPF)
Quality of T° homogeneity at 1000°C/1800F range
High accuracy of multiple gas line management system
High repeatability
Option of dual capacity of SPF/HF for optimized quality and cycle time
Easy integration of automated tool and part handling system
Machine range : from 60T to 3000T
Parts : pylon panels, nacelle panels, engine parts, fan and OGV blades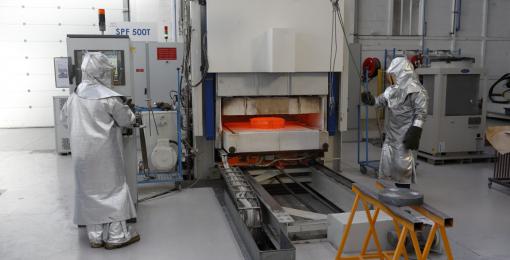 Customer support

ACB offers
Manufacturing Engineering
A turnkey solution to perform stretching, superplastic forming or hot forming industrialization, from part definition to production.
Discover this service